Web Design and Hosting - Mauritius
The Internet has opened up tremendous opportunities, endless possibilities, and drastically changed our outlook on conducting business. It lies beyond any boundaries, unites people worldwide and considerably increases chances of boosting business using professionally designed web site.

A professional web design of your web site and it's functionality is your company's corporate identity on the Internet; the impression web design conveys holds the visitor's attention and makes them come back over and over again. COMPNet web design company creates visually pleasing web sites that serve as a successful advertising tool.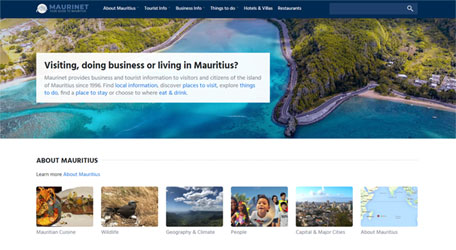 Mauritius Island Online
Maurinet.com, the Mauritian Portal for Tourists, Businesses and Citizens
Maurinet provides business and tourist information to visitors and citizens of the island of Mauritius since 1996.
Find local information, discover places to visit, explore things to do, find a place to stay or choose to where eat & drink.

Visit Website
---